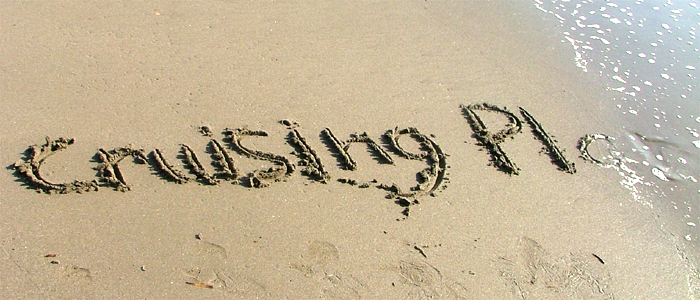 Past Voyages
Lest we forget where we've been, here are old cruising plans that are now historic.
Cruising plans
Written in sand at low tide, here are our current plans.
Beginning of March 2008
Haul-out in Panama on the Atlantic side. That gives us better weather for the western Caribbean and Gulf of Mexico passages.
End of March and first half of April
Passage from Panama to Florida via Isla Providencia, Grand Cayman, and Isla Mujeres to Key West.
End of April and early May
From Key West to Fort Lauderdale. Provisioning and last-minute repairs in Fort Lauderdale before the big passage. Last chance for friends and family to visit in the USA.
May 29th through June 23rd
Atlantic crossing from Fort Lauderdale to the Azores. The other boats we were sailing with (Orinoco, Ventura, and Aphrodite) all stopped off in Bermuda, so we ocntinued on our own with help from Herb on Southbound II for weather advice. We caught up with Saeta at Flores in the Azores.
Late June and early July
Explore the Azores before heading northeast to the Continent.
July and August
Cruise in northern Europe: To the Netherlands via the coast of France and Belgium.
Winter 2008-2009
The Netherlands